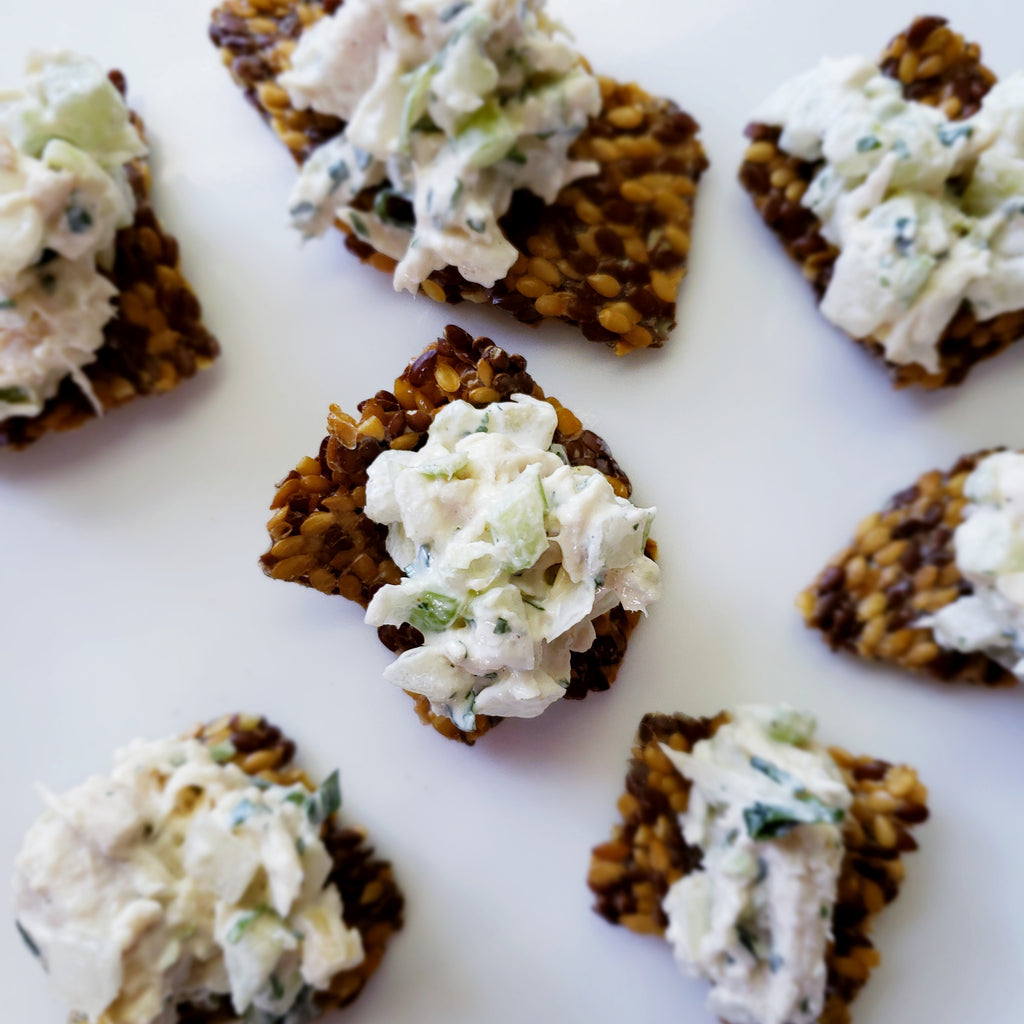 Whether you're heading back to school yourself, getting your kids ready to hit the books, or gearing up for fall projects at work, a quick, easy and healthy lunch is something we all need in a pinch.
There's nothing easier than dressing up an already perfectly cooked and crisped rotisserie chicken (thank you, grocery store delis). Here are two ways you can make fast & nutritious lunches using a rotisserie chicken paired with your favorite Flackers.
Rotisserie Greek Yogurt Chicken Salad
Chicken salad is a classic quick recipe you can make ahead of time and eat for lunch throughout the week.
What you'll need:
1 rotisserie chicken (Cut out all of the white breast meat which should equal roughly 2 lbs., use the dark meat for a different recipe)
1 ½ cups grapes, cut in half (optional)
½ cup chopped pecans
¾ cup plain yogurt (or more if you like it creamy)
¼ cup dijon mustard
¼ cup mayonnaise
½ cup red onion, finely chopped
2 green onions
2 tablespoons fresh dill
2 celery stalks, chopped
Salt and pepper to taste
Your favorite Flackers cracker
Dice or shred the rotisserie chicken breast and place in a bowl. Add in the grapes, pecans, red onion, green onion, celery, and dill. Then mix in the plain yogurt, dijon mustard, mayonnaise, and salt and pepper to taste.
Serve with Dill Flackers for an extra dill kick, or on Sea Salt for the perfect crunchy snack.
Yield: 6 cups
Grownup Lunchables
One of the best new-ish trends we've seen recently on Instagram is the resurgence of lunchables—this time for grownups. It makes so much sense to throw together quick lunch plates with whole, raw ingredients and a dip or two and voila—you've got an enviable elevated lunchable fit for any office or quick bite in between meetings.
Feel free to get creative with your own adult lunchables, or even to build yours by using up some veggies in the fridge.
What you'll need:
Savory Flackers (or your favorite flavor)
Rotisserie chicken (either dark or white meat)
Hummus
Cheese, sliced
Broccoli florets
Cherry tomatoes
Since everything here is basically ready to eat, all you need to do is prep the food by slicing and dicing in serving sizes of your choice. Serve on a plate or in a neat bento box, and you're all set!