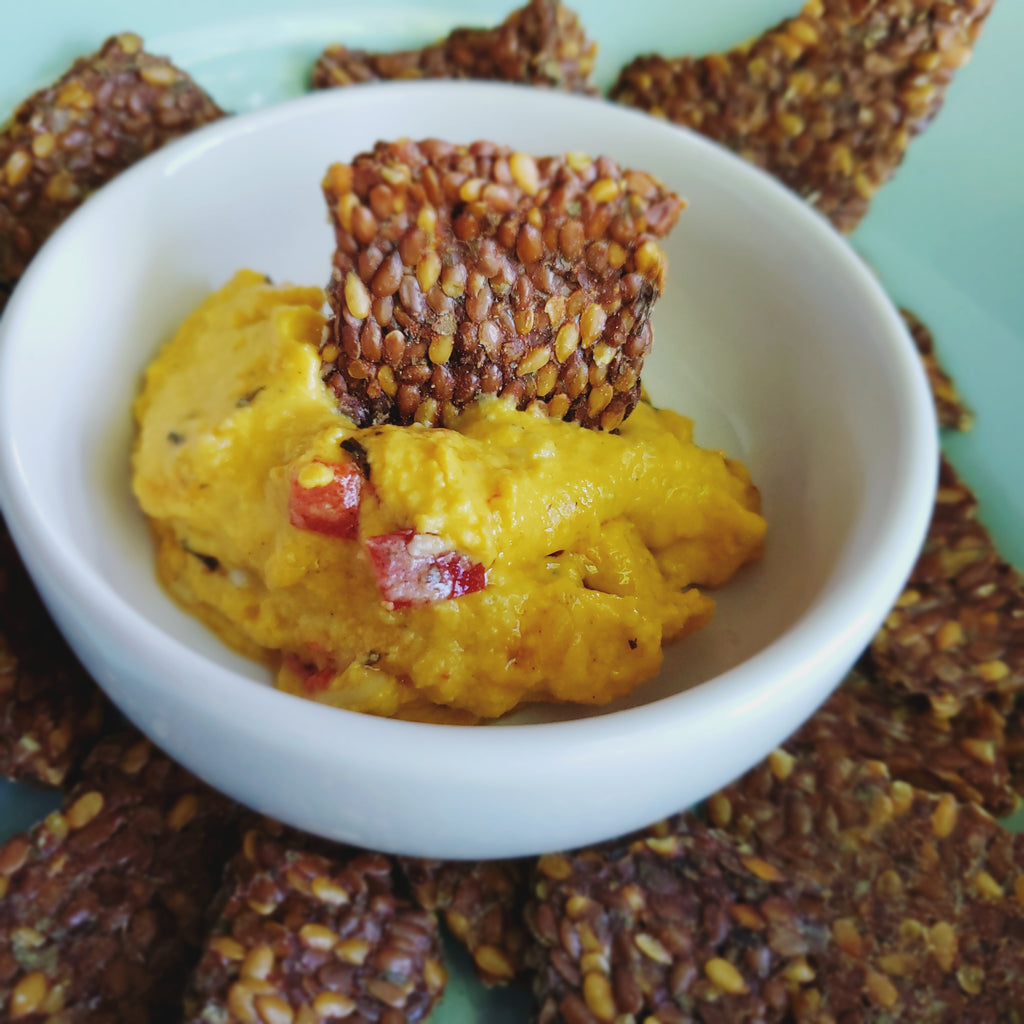 Flackers are *obviously* super delicious all on their own. But when you're craving an elevated snack that packs a healthy crunch and punch, we've got you covered. Here are some of our favorite dip, spreads, and cheese pairings for each Flackers cracker. 
Sea Salt Flackers
Sea Salt is so versatile—you can basically pair it with anything you like for an added healthy crunch. It serves as a great backbone to a wide array of dips, hummus, vegetable-based spreads, cheeses, and even as a great crunchy crouton on top of your fresh organic salads. 
What's also great about Sea Salt is that it pairs incredibly well with sweets, too. Serve yourself up a dish of a dairy-free blueberry coconut yogurt by So Delicious with a side of Sea Salt Flackers for a snack full of sweet and salty goodness. 
Savory Flackers
Savory tells it like it is. A perfect blend of garlic, onion, basil and a pinch of red chili pepper makes this cracker great on it's own or paired with plain hummus (Holy Land is a very good choice) so the flavor can really pop. If you're a flavor junkie, you can definitely pair Savory with a garlic-infused hummus or rich cheeses for an even richer snack.
Cinnamon & Currants Flackers
Our shining organic sweetness. Cinnamon & Currants was made for snackers who crave a bit of sweet, but don't want all the processed sugars and refined add-ins. Cinnamon & Currants dipped in plain greek yogurt (Stonyfield is a nice one!) is the perfect light summer treat. Add in some honey and fresh fruit and you've got yourself the best snack in the neighborhood.
Rosemary Flackers
Rosemary and a hint of sage—a timeless classic. If you're an herb lover, our Rosemary Flackers pair deliciously well with plain cheeses and spreads, allowing the rosemary to take center stage. Ghee is also another great pairing option for Rosemary—like Organic Valley's Organic Ghee Clarified Butter. 
Tomato & Basil Flackers
Fresh Mozzarella balls are a match made in heaven with our Tomato & Basil Flackers. Throw on a basil leaf and you've got yourself a beautifully refined yet hearty hors d'oeuvre. For a super intense, left-field flavor pairing, try them with Lantana Foods Sriracha Carrot Hummus. It's like the mediterranean-inspired dream snack you never knew you wanted.
Dill Flackers
Dill lovers, this one's for you. The delightfully zesty dill Flackers cracker pairs deliciously with a Smoked Salmon spread. For vegan dill enthusiasts, we recommend a vegan cream cheese like
Kite Hill
 or a
Yup, It's Vegan
cashew cheese spread.