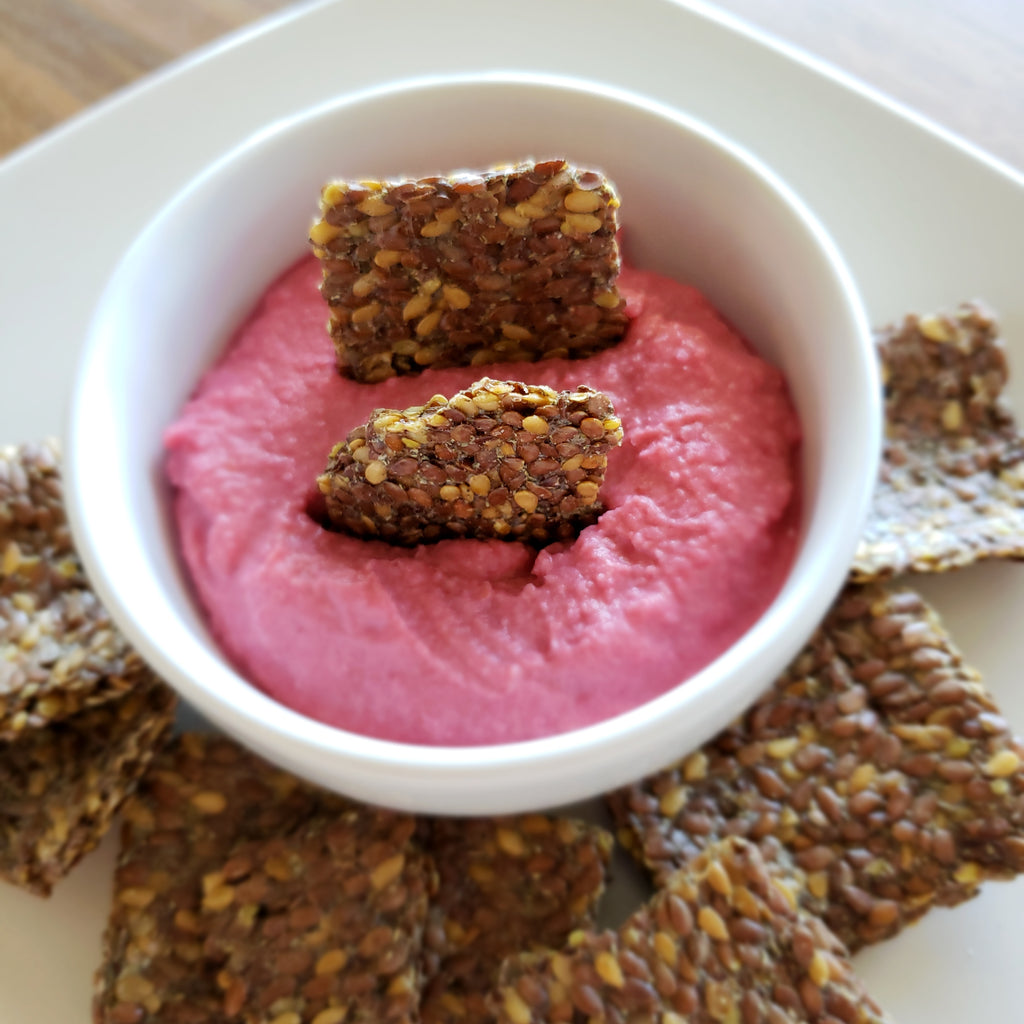 May is Celiac Awareness Month, so we decided to pull together a few amazing pairings with Flackers that are all gluten-free—just like our crackers.
Beet Hummus and Sea Salt Flackers
Beet hummus is definitely a great dip for those of you with adventurous palates. Its slightly tangy, beet-infused bean blend goes has a strong taste and will pair best with our simple Sea Salt Flackers. We tried Ithaca Cold Crafted Fresh Lemon Beet Hummus, and it was absolutely delicious.
If you want to make your own at home, follow this recipe:
Gluten-Free Beet Hummus Recipe
1 roasted beet, cooled and peeled
2 ½ teaspoons of minced garlic
¼ cup of extra virgin olive oil
2 big tablespoons of tahini
1 15 ounce can of chickpeas, drained
Zest from one lemon (to taste)
Juice from ½ of a lemon
Salt and pepper to taste
Sea Salt Flackers
Instructions: Blend the beet in a food processor. Add in the rest of the ingredients except the olive oil, and blend. Drizzle the olive oil in until it's all blended. Taste and add in more salt and pepper or lemon zest or juice to your liking. Enjoy!

Pickle Dip and Dill Flackers
If you love a lot of flavor in your snacks, this combo is insanely good—especially if you love the mystical powers of pickle brine mixed with a light and creamy cheese dip. Darling Pickle Dips are delicious with our Dill Flackers, but also pair well with Sea Salt and Savory if you want even more flavor.
Most cream cheeses are gluten-free, but you should watch out for cross contamination. That's why it's always important to check out the label.
If you want to make your own at home (the perfect way to get rid of those pickles sitting in the back of your fridge!), follow this recipe:
Gluten-Free Dill Pickle Recipe
8 ounces of Daiya cream cheese (gluten-free)
8 ounces of sour cream (naturally gluten-free)
1 cup finely chopped pickles
¼ cup dill pickle juice or to taste
1 tbsp dill weed
1 tbsp worcestershire sauce
1 tbsp garlic powder
Dill Flackers (or your favorite flavor!)
Instructions: Mix all ingredients together except pickle juice. Add pickle juice in slowly to taste. Enjoy!
Blackberry and Honey Goat Cheese with Cinnamon and Currants Flackers
This is a little dessert we dreamt up, and it was absolutely juicy and delicious. It's perfect for hot summer treats when you crave a little sweet cheese and fruit.  
Cinnamon and Currants Flackers
Honey goat cheese
Honey
Blackberries
Instructions: Spread honey goat cheese on a Cinnamon and Currants Flackers cracker. Place a blackberry on top, then drizzle with honey. Enjoy!