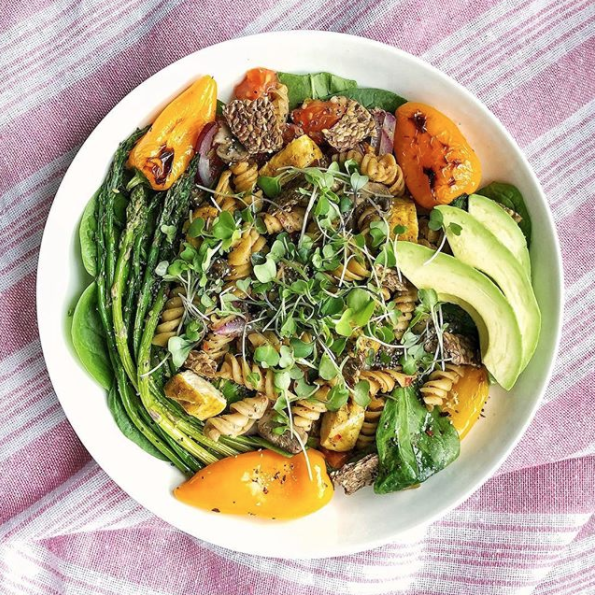 Our fans love tagging us in their foodie pics—and we love seeing them, too! One of the most popular trends we're seeing for 2018 on Instagram posts and stories are salads topped with Flackers as an alternative for croutons. (If there were an award for most creative use of Flackers, this would probably be it.)
A bit of interesting history: Croutons first appeared in 17th century France, where cooks would brush day-old french bread with butter or oil and then bake or fry to make them crispy—and definitely more palatable than stale bread.
While we applaud our forebearers not wanting to waste food, there isn't much nutritional value in adding butter-soaked bread on top of your otherwise healthy salad.
If you're looking for high nutritional value from each and every ingredient in your salad, try topping it with your favorite flaxseed crackers. If you crunch up and sprinkle approximately 6 Flackers crackers over your salad, you'll be adding about 4 grams of protein and 6 grams of dietary fiber.
Tip: Use the nutritional calculator on all of our product pages to get an estimate of different serving amounts.
Here are a few of our favorite Instagrammers and their salads topped with Flackers.
Hilda was kind enough to send us her salad bowl recipe:
Ingredients:
1.5-2 Cup Fresh Spinach or other proffered greens  
2 oz. (1/2 C.) Cooked Banza Pasta
1 Small Broiled Tomato
1/4 C. Broiled Sliced Purple Onion
10 Broiled Stalks of Asparagus
4 Broiled Baby Peppers
1/4 Avocado
6-7 Cremini Mushrooms
3 Cloves of Garlic (or per liking)
1/4 C. Med. Onion Sliced (or per liking)
1 Tsp. E. V. Olive Oil (for broiling)
1 T. E. V. Olive Oil (for preparing pasta in skillet)
1-2 Tsp. E. V. Olive Oil (for pasta water)
Garlic Salt
Dry Parsley
Toppings:
Flackers Crackers
Micro-greens (pinch (optional))
1 T. of Chia Seeds.
1 T. Parm Cheese (optional)
To Broil Veggies: 1 Small Tomato cubed, 1/4 C. Sliced Purple Onion, 10 Stalks of Asparagus, 4 Baby Peppers.
Place on a foil, drizzle with 1 tsp extra virgin olive oil, season with garlic salt and dry parsley. Toss together and broil for 2-3 minuets. Keep an eye out for the veggies, they can burn quick under the broiler (do not have the rack too close to the broiler, the further the better).
For Banza Pasta: Follow box instructions.
Bring water to boil w 2 garlic cloves, garlic salt and a drizzle of olive oil. Once it's boiling drop pasta (this is for whole box of pasta) in for exactly 7 min. Make sure you time it. Drain pasta with cold water. Set aside for a minute.
To Finish Pasta:
In a skillet on medium heat, heat 1 tbsp olive oil. Add in 3-4 cloves of garlic (chopped)((add more for a super garlicky flavor)), sliced onion (as desired), Cremini mushrooms (as desired). Allow for onions to start to turn clear, garlic to brown and mushrooms to cook through. Toss in the pasta and mix it all together and heat through. Season lightly with garlic salt.
To assemble Salad:
In a salad bowl, throw in 1 -2 Cup Fresh Spinach, 2 oz. (1/2 C.) Cooked Banza Pasta, 1 Small Broiled Tomato, 1/4 C., Broiled Sliced Purple Onion, 10 Broiled Stalks of Asparagus, 4 Broiled Baby Peppers, 1/4 Avocado and top with flackers, micro-greens, chia and parm cheese.
 2. Orange and Cranberry Salad with Flackers by 
Courtney's Orange and Cranberry Salad with Flackers recipe:
Simply mix together all of the ingredients for the salad and the dressing and voila!  
For the salad:
2 cups arugula
1 orange, peeled and sliced
2 tbsp no sugar added organic dried cranberries
2 tbsp raw sunflower seeds
3 tbsp raw pumpin seeds
4-6 cinnamon and currant Flackers
For the lemon ginger vinaigrette dressing:
1/4 cup olive oil or avocado oil
1 tbsp apple cider vinegar (you can add more if you want more vinegar taste)
1 tbsp lemon juice
1/2 tsp ground ginger
 Brittany's sunny bowl:
Ingredients
Hearts of palm
Parsley
Orange bell peppers
Cucumber
Tomato
Green onions
Carrots
Romaine lettuce
Hummus
Pumpkin seeds
____________________________
Do you make salads, superfood bowls, or eat Flackers in a super yummy and interesting way? Tag us on Instagram at @flackerscrackers and use #flackerscrackers for a chance to be featured! 
Did you know? When you join our mailing list, you get 25% off your first order of Flackers from our online store. You can also use the code FLAX50 for free shipping on all orders over $50.