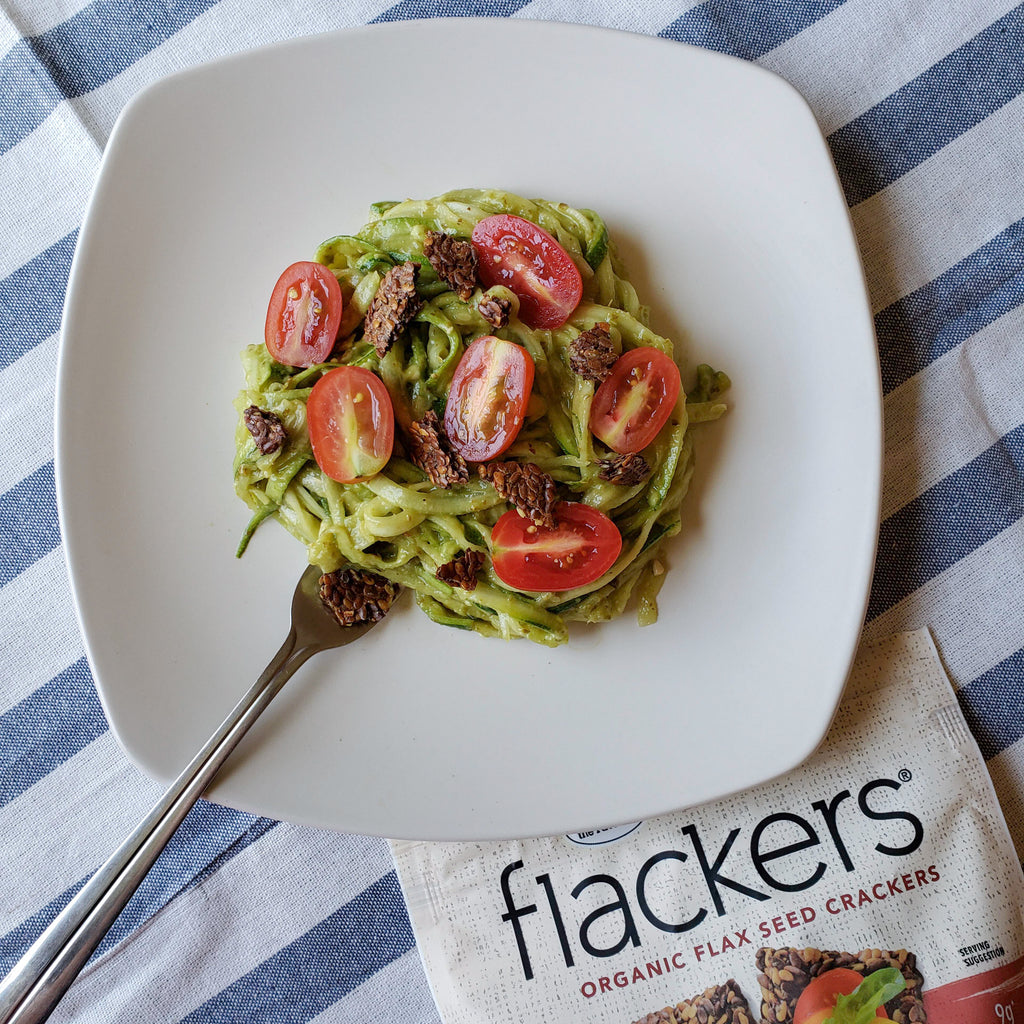 Most people associate keto with limited carbs and lots of meat, due to the diet's focus on replacing carbs with fats. However, there are plenty of ways to follow a plant-based keto diet—or at least mix up your meals with some veggie-centric recipes.
Flackers are naturally low-carb, since we make them with just organic flaxseeds, herbs and spices. Generally people who are following a keto diet try to limit their carbohydrate intake to anywhere from 20g to 50g per day, which means all of our Flackers crackers flavors are a great low-carb option for folks following keto. Here's a breakdown of the carb content in a serving of each of our flavors:
1 Net Carb
2 Net Carbs
Black Sesame Seed & Black Pepper
3 Net Carbs
5 Net Carbs
6 Net Carbs
Here are two plant-based keto-friendly recipes that are low carb and feature delicious veggies: zucchini noodles with an avocado pesto sauce and a hearty kale salad. 
Zucchini Noodles with Avocado Pesto
Ingredients:
1 zucchini, spiralized
1 cup basil
⅓ cup water
4 tablespoons pine nuts
1 ½ teaspoons lemon juice
1 avocado
10 cherry tomatoes, halved
Handful of Tomato & Basil or Sea Salt Flackers
Directions:
Boil water and cook your spiralized zucchini for one minute. Drain.

In a blender, add basil, water, pine nuts, lemon juice, and avocado. Blend until smooth.

Add zucchini, sauce, and halved cherry tomatoes to a large bowl and mix until everything is evenly coated. Top with a handful of crushed Tomato & Basil or Sea Salt Flackers Crackers. Serve and enjoy.
Hearty Vegan Keto Kale Salad
Ingredients:
Salad Base:
1 ½ bunches of kale
1 tablespoon sesame oil
2 teaspoons olive oil
2 cloves garlic, minced
1 teaspoon fresh ginger, minced
Dash sea salt
Toppings:
10 cherry tomatoes, halved
1 avocado, sliced
2 teaspoons coconut aminos
1 tablespoon balsamic vinegar 
¼ cup chopped red onion
Handful of your favorite Flackers crackers
Directions:
Wash kale leaves and remove stems. Chop into bite-sized pieces. Combine in a large bowl with sesame oil, olive oil, minced garlic, minced ginger, and sea salt. Massage together with hands until evenly combined and kale is tender.

Add halved cherry tomatoes, sliced avocado, coconut aminos, balsamic vinegar, and minced red onion. Toss everything together until thoroughly mixed. Top with a crushed up handful of your favorite Flackers crackers. Serve and enjoy.