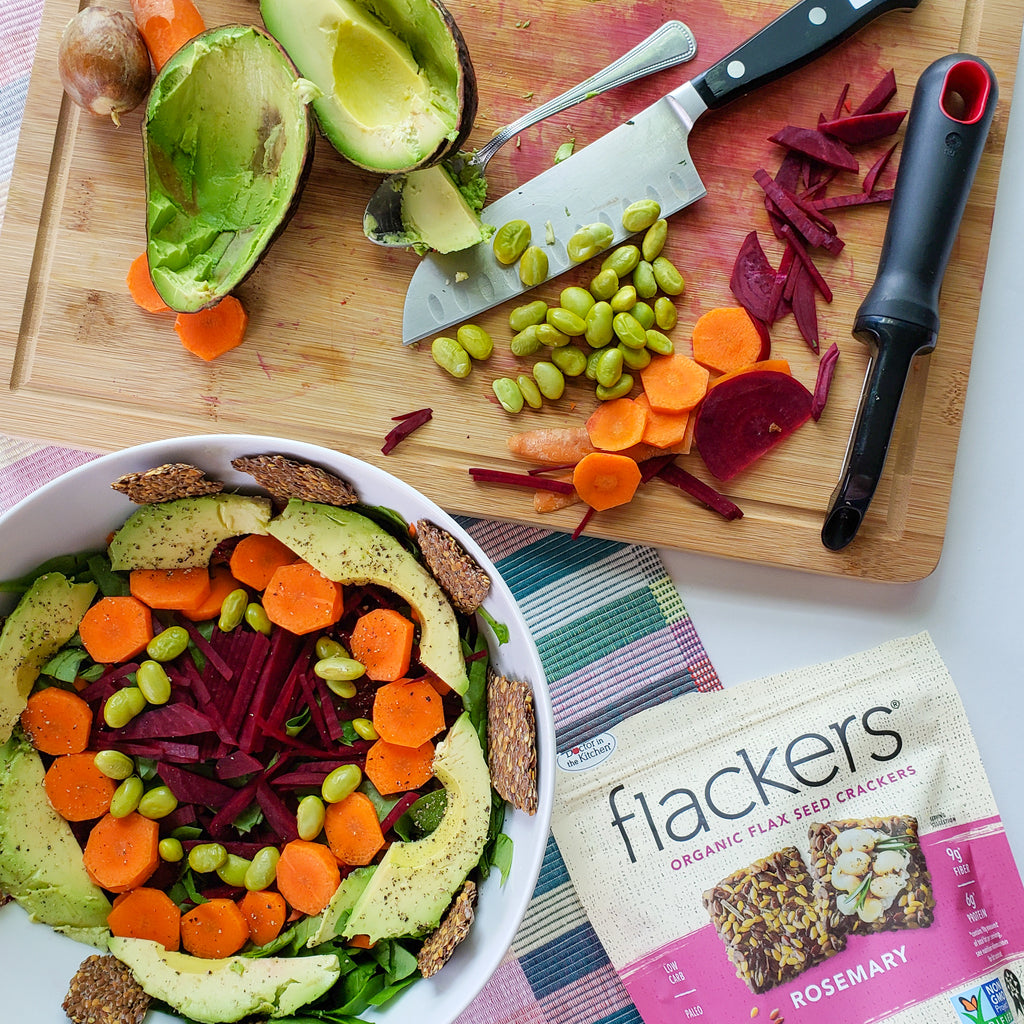 There's just something magical about beets. Their earthy texture and saturated red color add flavor and intrigue to any dish—no matter if they're cooked or served cold. 
During summer, when temperatures are rising and we crave light and cool dishes to eat, beets deliver a refreshing and juicy crunch to salads. They pair well with pretty much every vegetable on the planet, making them an excellent team player no matter what you're working with in the fridge.
We've put together a summer beet salad recipe packed with fresh seasonal veggies that you can top with your favorite Flackers crackers to add the most superb crunch and fiber kick.
Fresh Summer Beet Salad Recipe
Ingredients:
Salad Base:
¾ cup frozen edamame
1 medium raw beet, peeled
1 large carrot, peeled
2 cups packed spinach or arugula, roughly chopped
1 avocado, sliced
Handful of your favorite Flackers cracker
Vinaigrette:
3 tablespoons apple cider vinegar
2 tablespoons lime juice
2 tablespoons olive oil
1 tablespoon fresh mint, chopped
1 ½ tablespoons agave nectar
½ teaspoon Dijon mustard
Freshly ground black pepper, to taste
Pinch of salt
Preparation:
Edamame preparation: Fill a small pot of water to a boil, add edamame, and cook for about 5 minutes, or until beans are completely warm.

Beet and carrot preparation: Grate beet and carrot on a box grater, or chop as finely as finely as possible with a knife.

Vinaigrette preparation: Combine vinegar, lime juice, olive oil, mint, agave, Dijon, black pepper, and salt to a bowl. Whisk together until evenly combined.

In a large bowl, combine spinach/arugula, quinoa, shredded beet and carrot, edamame, pepitas, and sliced avocado. 

Drizzle vinaigrette over salad mixture, and toss until all ingredients are distributed. Break up a handful of your favorite flavor of Flackers crackers and add over top. Season with additional salt and black pepper if desired. Serve.