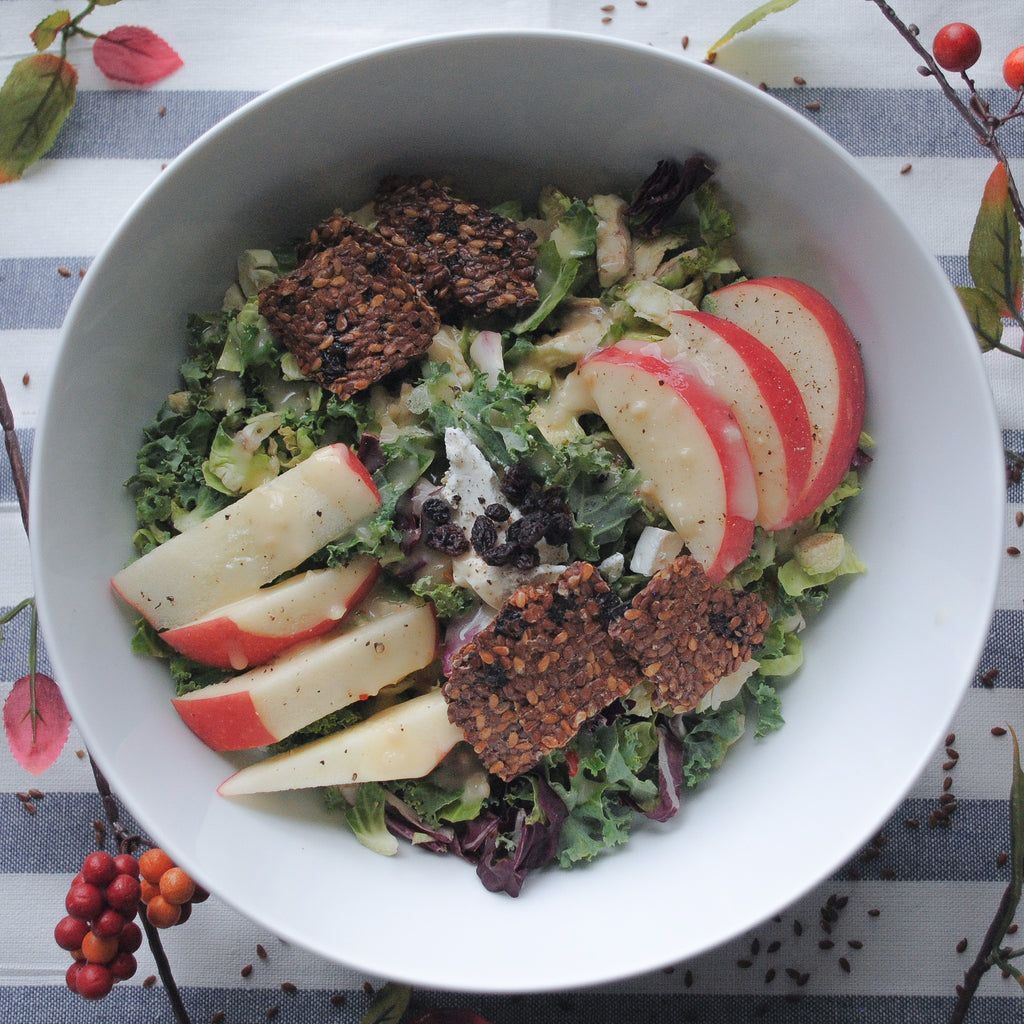 Craving some healthy fall foods to eat with your Flackers? Here are some of our recent favorites that highlight our Rosemary, Cinnamon & Currants, and Sea Salt Flackers. 
Broccoli soup with Rosemary Flackers
This recipe from Gordon Ramsay is a classic and a must-have in every kitchen. Using just a few ingredients, this is the perfect recipe for using up any broccoli you may have forgotten in the fridge or if you're looking for an easy meal prep for the week.
We spiced up his version just a bit by adding Flackers and sriracha sauce. Here's the recipe:
Ingredients
1 large bunch of broccoli, chopped
3 tsps salt or to taste
Black pepper to taste
Water
Rosemary Flackers
Optional
Goat Cheese
Sriracha
Needs
Stock pot
Slotted spoon
Blender
Instructions
Bring water to a boil in a large stock pot. Add the broccoli and boil until easily pierced with a fork. Use a slotted spoon to remove the broccoli from the stock pot and place in the blender. Use the broccoli water to fill up the blender about half way. Pulse the blender and add salt in to taste.
Place the broccoli soup in a bowl and sprinkle goat cheese on top. Break up a couple Rosemary Flackers over the soup for a deliciously herby crunch, and then top with a bit of cracked pepper and dots of sriracha.
Kale and Brussels Sprout Salad with Cinnamon & Currants Flackers
Move over, savory salad toppers: Cinnamon & Currants Flackers are coming for you. This salad was made with the health-conscious sweet tooth in mind. 
Ingredients
1 bunch of kale, chopped
3-4 brussel sprouts, chopped
Goat cheese
1 Honeycrisp apple, sliced
Dried currants
Cinnamon & Currants Flackers
Pepper
Lemon garlic vinaigrette dressing
Optional
Black pepper
Salt
Needs
Knife
Cutting board
Bowl
Instructions
Place the chopped kale and brussel sprouts into a large bowl. Sprinkle goat cheese and Cinnamon & Currants Flackers on top. Place the sliced Honeycrisp apples on the dish, and finish with the lemon garlic vinaigrette dressing. Finish with an optional dusting of cracked pepper and a pinch of salt.
Mini-avocado toasts with Sea Salt Flackers
Who doesn't love a low-carb avocado toast? These are the absolute perfect healthy snack that both kids and adults alike can enjoy together.
Ingredients
1 avocado
Sea Salt Flackers
Grape tomatoes
Salt to taste
Pepper to taste
Optional
Garlic powder
Needs
Plate
Knife
Bowl
Instructions
Remove the avocado skin and pit and place in a bowl. Sprinkle in a bit of salt and pepper and smash. Option: add in a bit of garlic powder to kick up the seasoning a bit. Spread the avocado mix onto your Sea Salt Flackers, and garnish with sliced grape tomatoes. Top off with a twist of cracked pepper and a tiny pinch of salt.