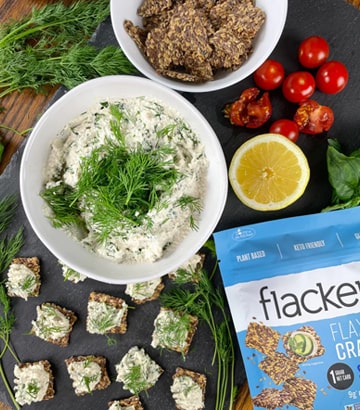 This plant-based herb dip recipe is a delightfully light snack made with a base of creamy cashews, fresh herbs, and a squeeze of lemon. Serve it as an appetizer with your favorite Flackers and assorted fresh veggies.
Why you soak cashews for plant-based recipes
Not only are cashews an excellent source of vitamins and minerals—they're also a wonderful substitute for traditional dairy ingredients in your favorite recipes. That's because cashews whip up into a nice creamy texture when soaked and blended with nut milks or water.
Soaking the cashews allows them to soften up so they're easier to blend into the creamy consistency you're looking for in a classic dip recipe. You can soak cashews overnight or in 1-2 hours with boiling water.
INGREDIENTS
2 cups raw cashews
2 cups boiling water
½ cup cashew milk, unsweetened
½ yellow onion, chopped
2-3 cloves of fresh garlic, minced
1 tbsp fresh lemon juice (about ½ of one lemon)
3 tbsps fresh dill, minced
3 tbsps fresh basil, minced
3 tbsps fresh chives, minced
Salt and pepper to taste


INSTRUCTIONS
Add cashews to a large mixing bowl and carefully pour 2 cups of boiling water over them. Let the cashews soak for 1-2 hours.
Add lemon juice to a jar with garlic. Stir and let sit for a few minutes.
Drain cashews and add them to a blender with the lemon juice, garlic, chopped onion, salt and pepper. Blend until mixture is creamy and smooth. Add cashew milk as needed for desired creaminess.
Add blended mix to a serving bowl and stir in the dill oregano, basil, and chives. Add salt and pepper to taste if desired. Refrigerate for a couple hours before serving with Sea Salt Flackers and fresh veggies.
Have you tried this recipe? Share yours with us on Instagram at
@flackerscrackers
.