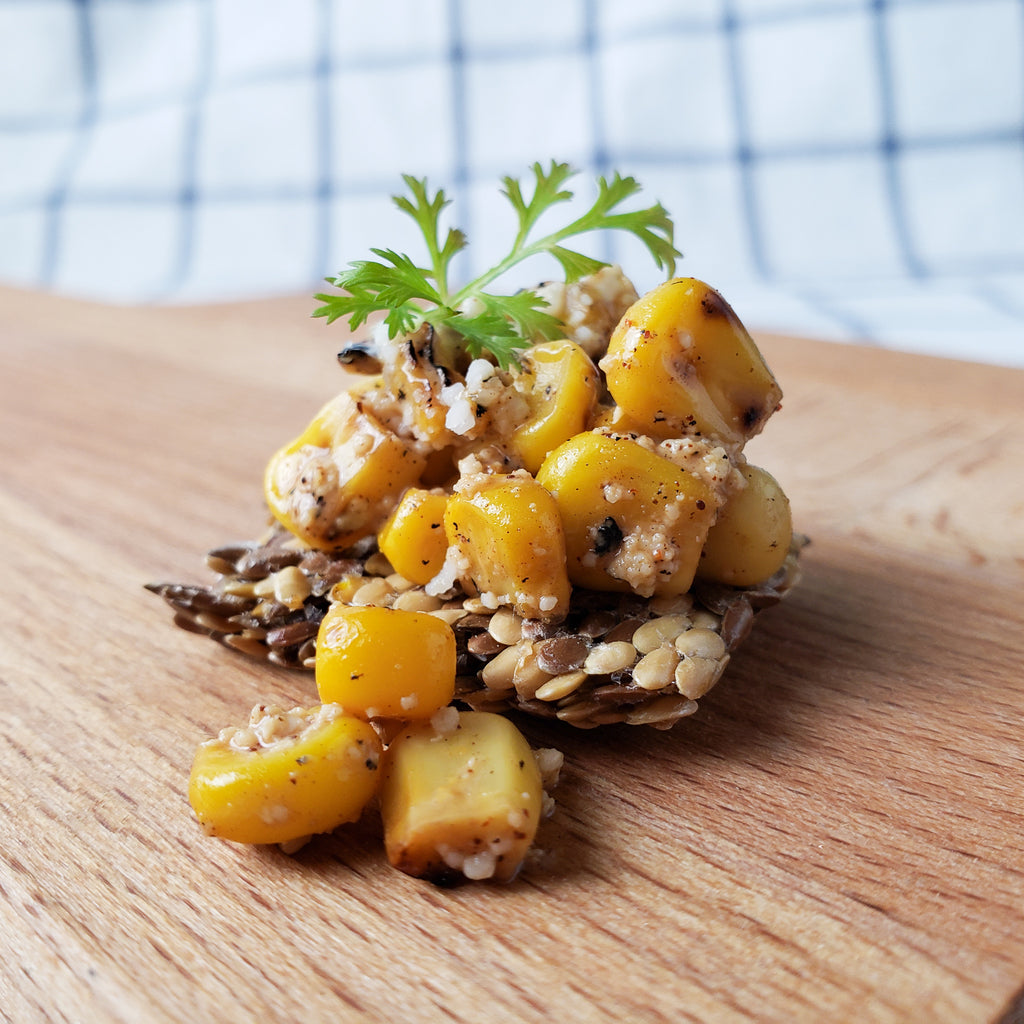 Elote is a delicious Mexican street corn recipe that's incredibly easy to make at home. Not only is it a tasty side dish you can add to spice up any meal, it's also an A+ dish to pair with Flackers for a quick snack or appetizer the whole family will enjoy. 
If you've traveled throughout Mexico or the southwest United States, you've likely encountered Elote on the cob, pulled straight from a street vendor's sizzling grill and brushed with a bit of mayonnaise, cotija cheese, chili powder, and a squeeze of lime. 
While you can certainly grill your corn on the cob for this recipe, you can also use organic canned corn roasted right on your stove top for a seriously tasty dish made in about 5 minutes. 
Note: This is one of those beautiful dishes that is fun to get creative with and is very forgiving if you don't have all the ingredients. Grated parmesan is a great substitute for cotija cheese if you can't find it. Cilantro, being the divisive garnish that it is, is completely optional—this dish is perfectly delicious without it. And if you don't have mayonnaise, a light coating of olive oil or butter will do the trick. 
What you need:
1 can of fresh organic corn 
1 tbsp mayonnaise (or veganaise for a vegan option)
¼ cup cotija cheese (Here's a great recipe for vegan cotija cheese made with almonds)
¼ tsp chili powder
1 tbsp lime juice or 1 fresh lime
Salt & pepper
Cilantro (optional)
Sea Salt Flackers (or your favorite flavor)
Recipe:
Place your pan on the stove and turn it up to medium high heat.

Drain your can of corn and place in the pan in an even layer. Let the corn sizzle on one side for a couple of minutes and then stir. Repeat until the corn begins to look evenly roasted and charred.

Remove the corn from the pan and place in a bowl. Mix mayonnaise or veganaise, chili powder, lime juice, and cotija cheese with the corn. Sprinkle a pinch of salt and pepper to taste.

Optional: Chop up some cilantro and mix in. 

Take your Sea Salt Flackers and place a heaping spoonful of elote corn on top. 

Enjoy!