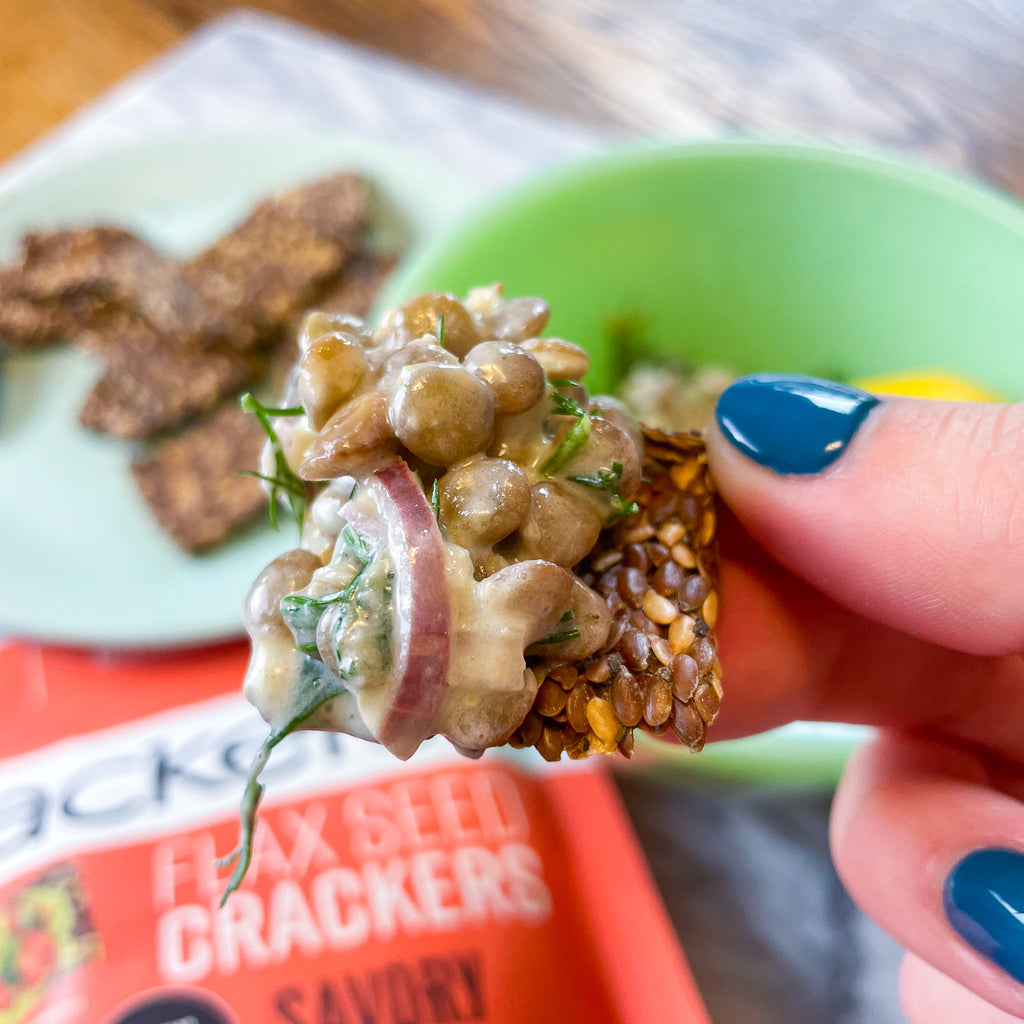 Lentils are one of those amazing staple ingredients that can find a place in the kitchen no matter the season. However—there is something extra special about lentils when the leaves begin to turn, the weather starts to cool, and you begin to crave dishes with a little more substance.
This recipe is the perfect transition from summer to fall: The brightness of the lemon juice and fresh dill represent the best of summer tang, while the lentils, creamy sheep's milk cheese, and capers bring a hearty, briny richness that celebrates the changing seasons.
Ingredients
½ log of sheep's milk cheese (about 75 grams, or more if you like)
1-2 tablespoons extra virgin olive oil
1 ½ tablespoons freshly squeezed lemon juice
1 small clove of garlic, minced
1 cup cooked brown lentils, drained and rinsed 
2-3 tablespoon fresh dill, chopped
1 small shallot, finely chopped
2-3 tablespoon capers
Sea salt & black pepper to taste
Savory Flackers
How to make
Place the lemon juice, garlic, and shallot in a jar together. Mix and set aside for a few minutes, allowing the lemon juice to pull out the sharpness in the raw garlic and shallots. 

Mix together the sheep's milk cheese, olive oil, lemon juice, garlic, shallots, fresh chopped dill, salt and pepper until well combined. 

Gently mix in the lentils and capers, careful not to break too many.

Serve with Sea Salt, Savory, or your favorite Flackers flax cracker.
Did you make this recipe? Tag us on Instagram at @flackerscrackers for a chance to be featured.