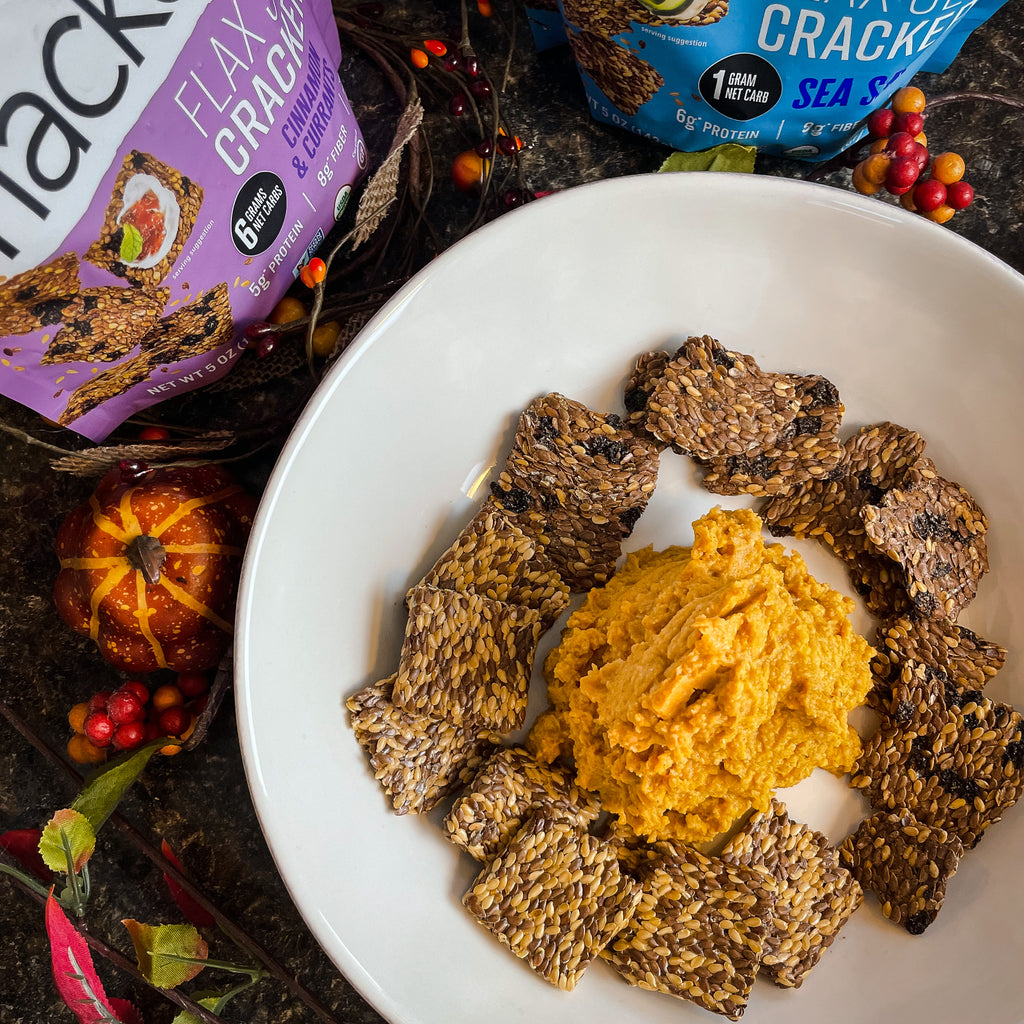 This easy-to-make pumpkin spice hummus is a great way to celebrate fall flavors and spice up a versatile, traditionally healthy snack. Chickpeas and pumpkin puree are lightly sweetened with maple syrup and a blend of cozy fall spices that make a seriously delightful midday snack or even a little desert. 
We kept this recipe quite simple—but feel free to top with organic dark chocolate chips, apple slices or fresh berries to really spice things up for snack time.
PAIR WITH:
Sea Salt or Cinnamon & Currants Flackers
NEEDS
Food processor
INGREDIENTS
1 15-ounce can chickpeas, drained & rinsed
1 cup pumpkin puree (fresh or canned)
2 tablespoons tahini or cashew butter
2 tablespoons lemon juice approx. 1 medium lemon
3 tablespoons maple syrup (or your choice of sweetener)
1 + ¼ teaspoon cinnamon
½ teaspoon ground ginger
¼ teaspoon nutmeg
⅛ teaspoon ground cloves
⅛ teaspoon sea salt
1-2 tablespoons water
Sea Salt or Cinnamon & Currants Flackers
INSTRUCTIONS
Add all ingredients except water to a food processor and pulse until blended and creamy. 

Add in water and blend until desired consistency is achieved. 

Serve with

Sea Salt

or

Cinnamon & Currants Flackers

, and your choice of fresh fruits.
Did you make this recipe? Share your kitchen brilliance! Tag us on Instagram @flackerscrackers for a chance to be featured on our page. 
Don't miss a recipe—sign up for our
newsletter
and get them straight to your inbox. Plus 20% off your next order!