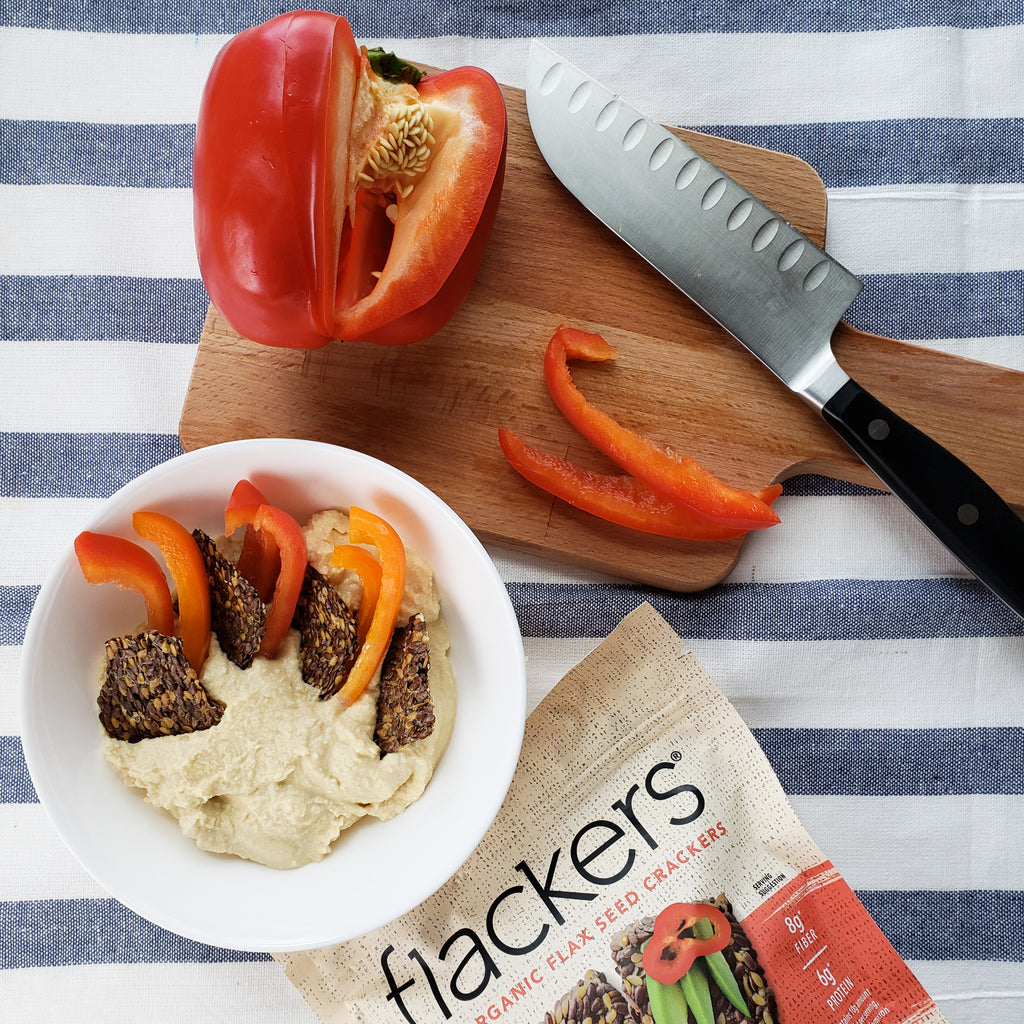 HUMMUS! Dare we say it's the perfect dip?
It's a great source of plant-based protein and essential vitamins and minerals like iron, phosphorus, folate, and B-vitamins—all very important for a healthy body and a healthy life.
Just like flaxseed, the top ingredients in hummus (olive oil, sesame seeds that make the tahini, and chickpeas) are known to help reduce inflammation in the body. Hummus is also high in fiber, which helps keep your gut running smoothly. What's more: it's also a gluten, dairy, and nut-free snack making hummus a wonderful, healthy dip for nearly every diet.
Like any good thing in this world, there's wide-spread debate over where it originated from—aka who gets to lay claim to its genius recipe. This we know: hummus has been a staple on Middle Eastern and Mediterranean tables for thousands of years.
The word "hummus" is actually derived from an Arabic word meaning "chickpea." Folk tales describe it as one of the oldest known prepared foods in the world. Today, hummus is an extremely popular dip in all corners of the globe, thanks to its versatility and simple, healthy ingredients.
That also makes it the perfect partner to pair with any of our Flackers crackers—even Cinnamon & Currants which pairs beautifully with dessert hummus (like these by Delighted by Hummus).
Recipe:
Ingredients:
⅓ cup tahini
2-4 tablespoons cold water, add more if needed for your desired consistency
2 tablespoons olive oil
½ teaspoon ground cumin
¾ teaspoon fine sea salt
2 medium garlic cloves, peeled and crushed
Juice of one lemon (2-3 tablespoons)
One 15oz can of chickpeas, rinsed and drained
Optional toppings: the flaxseed crumbs from the end of your Flackers crackers bag, toasted pine nuts, paprika, parsley, pesto, roasted garlic (the list could go on forever)
Directions:
Add tahini, cold water, olive oil, cumin, salt, garlic, and lemon juice to a food processor or blender. Puree until smooth.

Add in the chickpeas. Puree for 3-4 minutes until hummus is smooth, stopping halfway through to scrape down the sides of the bowl. If it is too thick, add another tablespoon or two of water to your liking.

Taste and season with additional salt, cumin, and/or lemon juice if needed.

Serve immediately with Flackers crackers, fresh veggies, and garnished with desired toppings. You can also transfer to a sealed container and store in the refrigerator for up to 3 days.