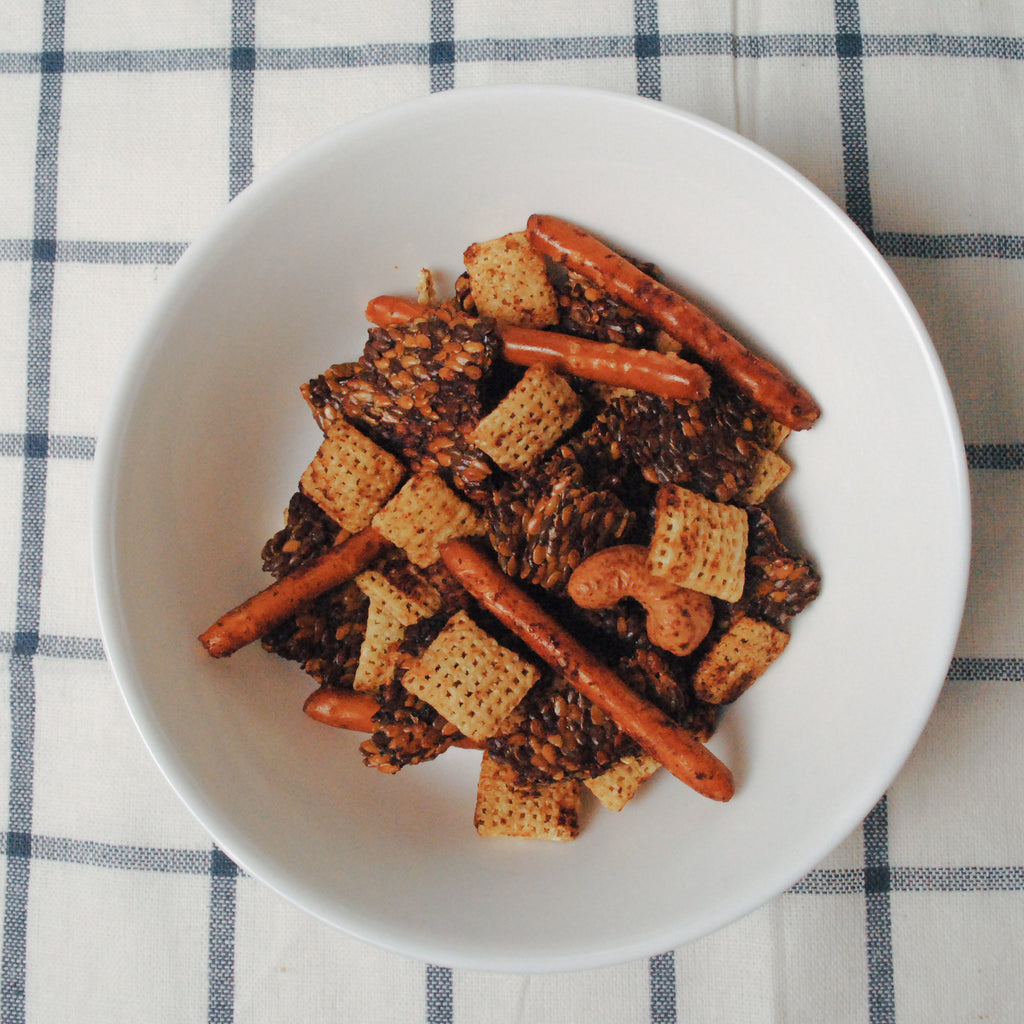 There's nothing better than a good party mix recipe. No matter what kind of party you're hosting, it's always a hit and is usually the first thing to be eaten up. However, with so many irresistible,  tasty ingredients as part of the recipe, party mixes don't always fit into our gluten-free and vegan friends' diets.
Until now!
Here's our delicious and healthy gluten-free vegan party mix recipe that features your favorite Flackers flavors, coconut oil, and many wonderful vegan and gluten-free ingredients.
Ingredients
1 bag of Sea Salt Flackers (roughly 2 cups)
1 bag of Savory Flackers (roughly 2 cups)
2 cups Rice Chex
2 cups Snyder's of Hanover Gluten-free pretzels
1 cup of mixed nuts
2 Tbsp Worcestershire sauce* (SEE DIETARY NOTES BELOW)
5 Tbsp organic coconut oil
1 ½ teaspoons seasoned salt
1 ½ teaspoons garlic powder
1 teaspoon onion powder
Pinch of cayenne pepper (optional)
*Dietary Notes: Worcestershire Sauce
A typical Worcestershire sauce recipe is made with soy sauce that contains wheat and anchovies, a saltwater fish. We've listed a couple different brands you can use that will fit your specific dietary needs for this recipe.
Vegan: Annie's Organic Vegan Worcestershire Sauce
Ingredients: Water, Apple Cider Vinegar, Molasses, Soy Sauce (Water, Soybean, Salt, Wheat, Alcohol), Cane Sugar, Tamarind, Sea Salt, Cornstarch, Xanthan Gum, Garlic, Onion, Clove, Chili Pepper.
Gluten-Free: Lea and Perrins Worcestershire Sauce
Ingredients: Distilled White Vinegar, Anchovies, Garlic, Molasses, Onions, Salt, Sugar, Water, Chili Pepper Extract, Cloves, Natural Flavorings, Tamarind Extract.
Vegan and Gluten-Free: Edward's and Sons Organic Gluten Free Vegan Worcestershire Sauce
Ingredients: Organic Apple Cider Vinegar, Molasses, Wheat-Free Tamari (Water, Soybeans, Salt), Filtered Water, Cane Sugar, Salt, Lemon Juice Concentrate, Ginger Puree, Tamarind, Chili Pepper, Garlic Powder, Xanthan Gum, Shiitake Mushrooms, Allspice, Cloves, Orange Extract, Lemon Extract, Smoke Flavor, Onion Oil.
Instructions
Preheat your oven to 250°. In a small bowl, mix the coconut oil if already liquid (if stored in a cold room and solid, melt the coconut oil in the microwave in 30 second increments until fully melted), garlic powder, onion powder, seasoned salt, Worcestershire sauce, and optional pinch or sprinkling of cayenne pepper.
Lightly break up the Flackers crackers to your snacking size preference. *Be careful not to pulverize the bag and turn them into crumbs.
Place Flackers, Rice Chex, gluten-free pretzels, and mixed nuts on a baking sheet. Pour the seasoning mix over top and mix together with a spatula until seasoning is evenly distributed.
Bake on 250° for 1 hour stirring every 15 minutes. Let cool and enjoy!
Be sure to store in an airtight container.