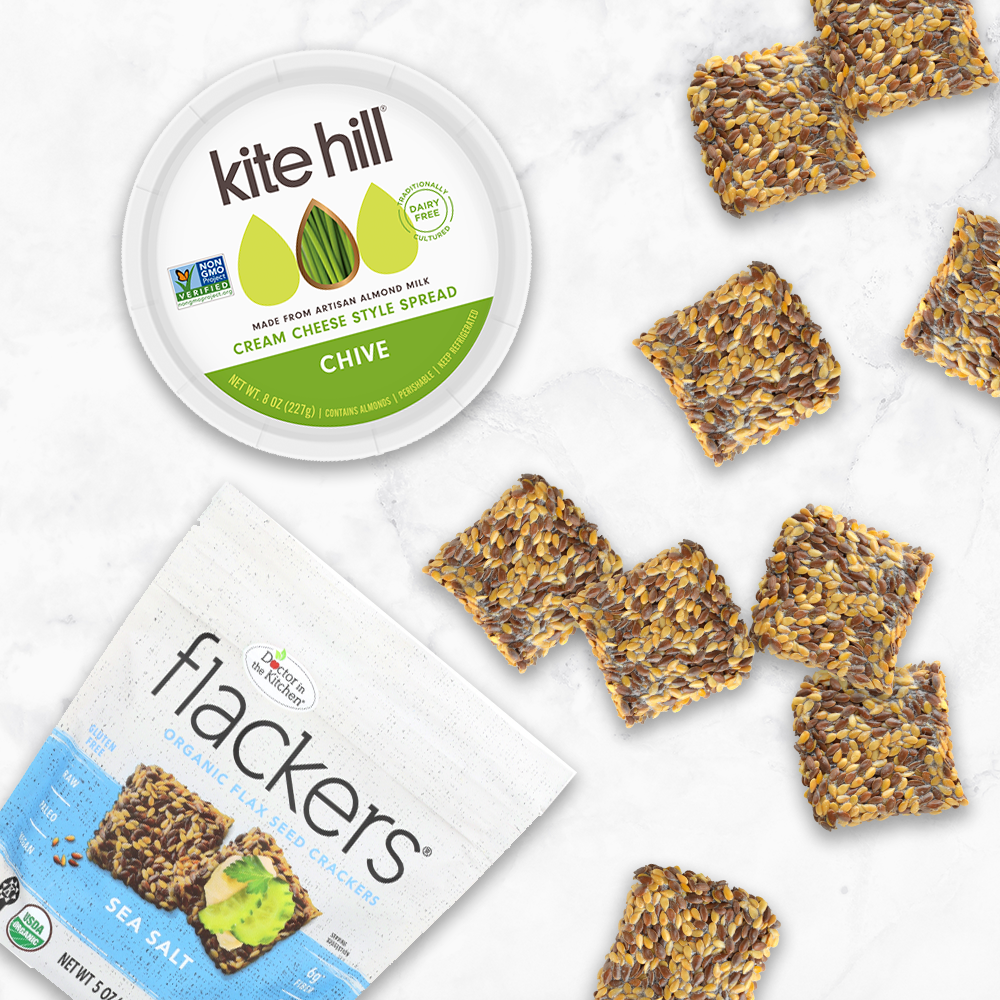 The best vegan cheeses of 2019 are all delicious and simply delightful when paired with our crunchy flaxseed crackers. Plant-based snacking heaven is just around the corner—check out all the brands we're loving (and eating) right now.  
Kite Hill Chive Cream Cheese Style Spread
Kite Hill is an amazing vegan cheese brand that has a number of dairy-free cheese style spreads that are perfect to slather all over your favorite Flackers. All their cheeses start with an almond milk base, making them a great choice for vegans and lactose-intolerant folks alike.
Their Chive flavor spread is absolutely divine paired with our simple Sea Salt or Savory Flackers crackers. Kite Hill also has a plain cream cheese style spread that we loved using in our vegan Cranberry Dip recipe, and a jalapeño flavor for those of you who love a little kick.
Herbivorous Butcher Vegan Deli Cheeses
The Herbivorous Butcher, located in Minneapolis, MN, was one of the first vegan "butcher" shops to open in the world. They make and sell a wide variety of vegan cheeses and even vegan meats that you can buy in-store or order online.
You can stock up on vegan mozzarella, vegan dill havarti, vegan smoked gouda, vegan cheddar cheese, and lots more. There's even a chocolate cheddar flavor that would be delicious with our Sea Salt Flackers or our Cinnamon and Currants flavor for sweetness snacking double duty.
Most of their cheeses are made with a soy milk base and are available in 5 oz packages.
Chao Creamery Sliced Cheeses
The best thing since sliced bread? Sliced cheese. Even better? Sliced vegan cheese! Chao Creamery offers a famously tasty vegan sliced cheese option that is a quick, easy, and nutritious snack that pairs well with pretty much all of our savory options: Sea Salt, Rosemary, Tomato & Basil, and Savory.
Their featured ingredients are fermented tofu and coconut and they come in three flavors: Creamy Original, Tomato Cayenne, and Garden Herb.
Miyokos Vegan Cheeses
Miyokos is an award-winning plant-based creamery in California that has a wide range of vegan cheese options to pair with your favorite Flackers.
They offer vegan cheese wheels, vegan cream cheese, vegan cheese spreads, and vegan mozzarella. They also make vegan butter for all of your perfectly plant-based cooking needs!
Available in several delicious flavors, like Garlic Herb and Rustic Alpine, their cheese wheels are a delightful addition to any vegan cheese tray. Add in Sea Salt, Rosemary, and Savory Flackers with some fresh jam and nuts, and you've got yourself a totally enviable vegan cheese board that's ready to wow any party.
As for their mozzarella, there's no better classic combination than with our Tomato and Basil Flackers.
Do you have a favorite vegan cheese you pair with Flackers? Tell us by writing to social@flackers.com. And make sure you're following us on Instagram, Facebook, Pinterest, and Twitter for more recipes, pairings, and promos!